As we hear so often – it's a club no one wants to be in. Infertility and the third party reproduction journey are such a physical and emotional rollercoaster. If you ever needed an excuse for a gift (in addition to the holiday season), then this is it. Whether to treat yourself (you deserve it!), or to give a token of gratitude to your egg donor or gestational carrier, or even a kind gesture towards a loved one going through infertility — our guide contains a selection a variety of gift ideas we've discovered for this holiday season and beyond. We're sure there are also many more wonderful options out there that you've come across or purchased so we'd love to hear your thoughts and recommendations!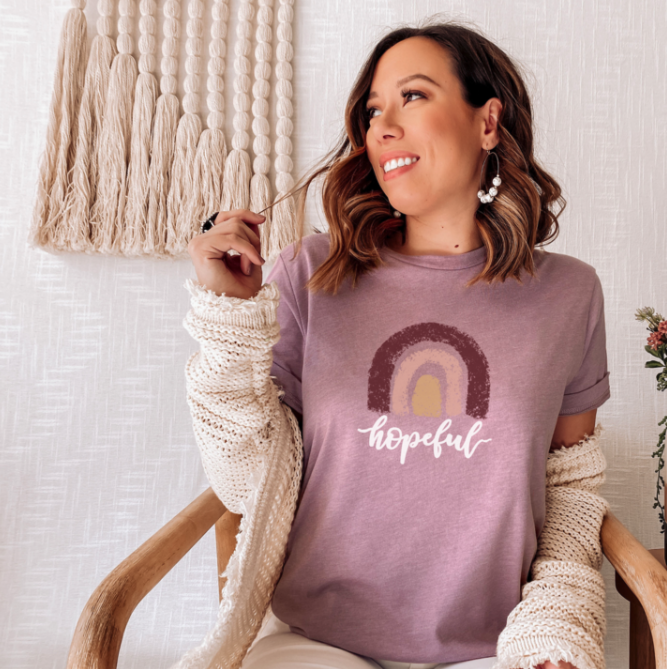 InfertileTees is a stylish apparel company founded by Marilyn Gomez. Marilyn's fertility journey spanned ten years and she knows all too well how challenging it can get (you can listen to and read about her story in our blog) We love the mission behind the brand and how they're helping so many women going through this journey feel seen, heard, and worthy! The pineapple ornament is the perfect addition to any Christmas tree and is a reminder of how incredibly strong you are as you navigate this season of life. Add a tee with an inspiring message, and it all makes the perfect gift for yourself or a loved one to enjoy wearing for the year ahead.
Each step in the IVF process is a milestone worthy of recognition. These cards are perfect for those who are about to start their IVF journey, to document and be proud of every step.
Never underestimate the power of a pair of warm, and fuzzy socks! Behind each pair of socks is The Cozy Warrior, a non-profit organization and community focused on supporting individuals and couples who are struggling to conceive a child, including through The Cozy Warrior Non-Profit Fertility Grant. Fuzzy socks are a heartfelt gift to a friend struggling with infertility or as a gift to yourself ahead of a transfer – in the organization's own words, "overcome the odds in comfy socks"!
There's a story behind the pineapple: it's said that eating pineapple core can help an embryo implant in the uterus. While eating pineapples isn't necessarily a doctor's order during IVF, wearing one is a symbolic reminder of the strong infertility community that's rooting for you in the background.
This coloring book contains an assortment of infertility inspired designs to help you relax and relieve stress during your journey. The benefits of art therapy are well-documented, and we also spoke about this during our Instagram Live with fertility coach Monica Bivas (more on this below). Coloring helps you focus on the task at hand, steering you away from negative emotions as you wait or deal with unexpected results.
Speaking of Monica, each piece in this symbolic collection featured on her site is uniquely made using natural stones. The Fertility Bracelet in particular is made of moonstone, known as the stone of fertility, destiny and motherhood. It's coupled with Lepidolite, a stone that reminds the wearer to love themselves and their soul as well as helps alleviate anxiety surrounding fertility cycles, pregnancy and birth. Monica is also the author of The IVF Planner, a journal to help you organize the IVF process and write your own story. You can learn more about the planner in our book list and add it to your gift list as well!
If you or someone you know is in need of some TLC, the Uniquely Knitted infertility care box checks all the boxes. This beautifully curated box is filled with products to bring care and hope to anyone struggling to get pregnant, doing an IUI or IVF, anyone who has experienced miscarraige or those who just need a little love.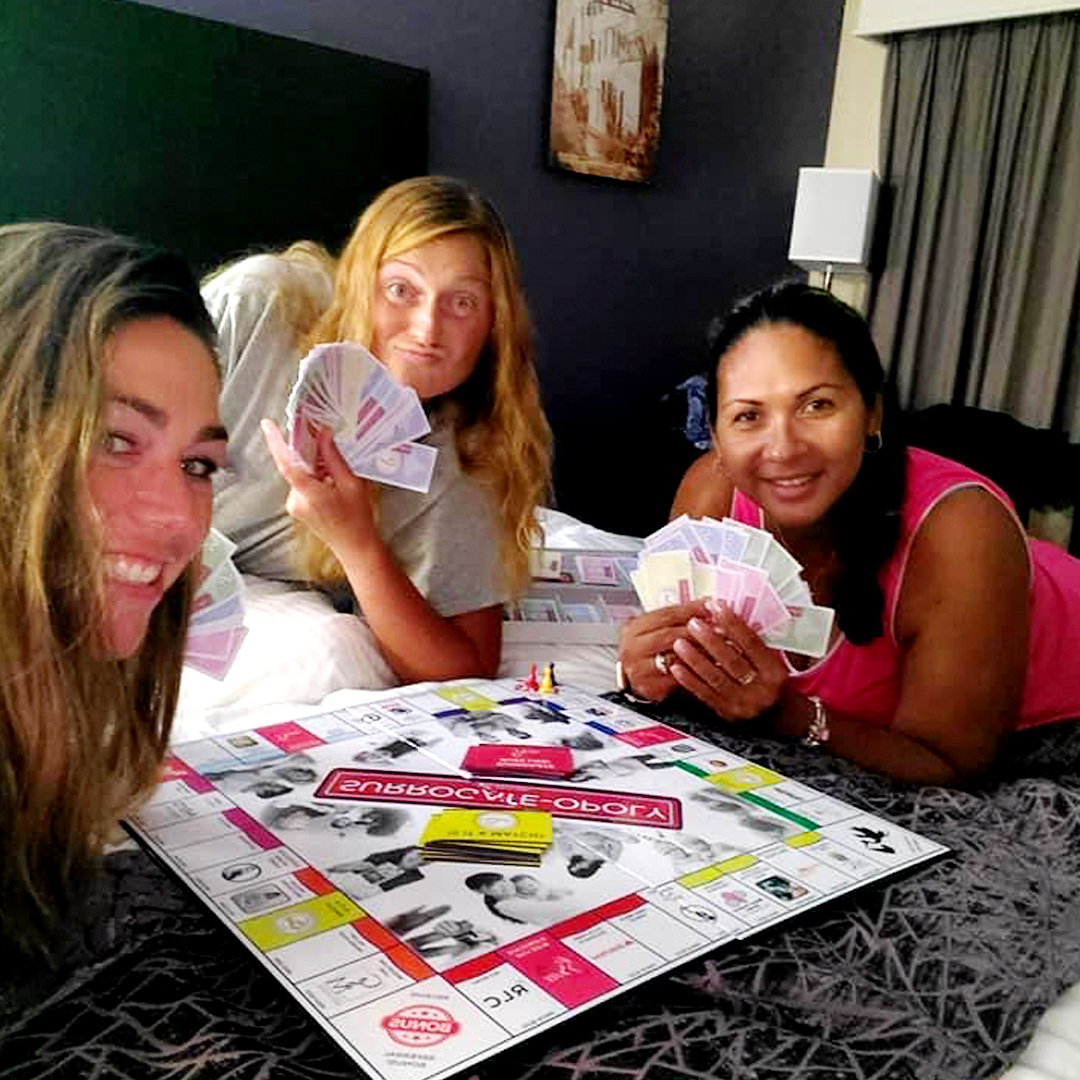 When the pandemic impacted their ability to gather in person, the team at Surrogate Alternatives decided to get creative, change their game and figure out a way to engage with gestational carriers and intended parents. This led to the creation of SurrogateOpoly: a monopoly inspired game with a surrogacy related theme. If you're growing your family through surrogacy, this board game is perfect for educating those around you about surrogacy. It's also ideal as a gift for your gestational carrier to help her explain the process to those around her. You can email [email protected] exclusively to purchase the game.
A gift for the intended parents: Surrogacy Journal by AlishaLynnePrintable
You're already doing an amazing job growing a little one for your intended parents. Why not record it all in this sweet surrogacy journal? Fill the pages with ultrasounds, photos, thoughts and feelings, and also keep track of appointments, especially if the intended parents live far away and/or COVID restrictions are preventing them from being at every appointment. The finished journal would make an amazing gift for your intended parents and can also support them as they share their story of love with their little one.
This personalized Surrogacy Transfer Survival Box is an ideal gift option for those still at the beginning of their journey. It contains everything from cozy socks for transfer day to belly balm to soothe stretching skin – gifts your gestational carrier can use throughout the entire journey and beyond.
Gestational carriers are such a wonderful part of our lives and family building journeys — and just one fun way to show it is this adorable mug! Add some pregnancy-safe anti-nausea tea for a lovely self-care package.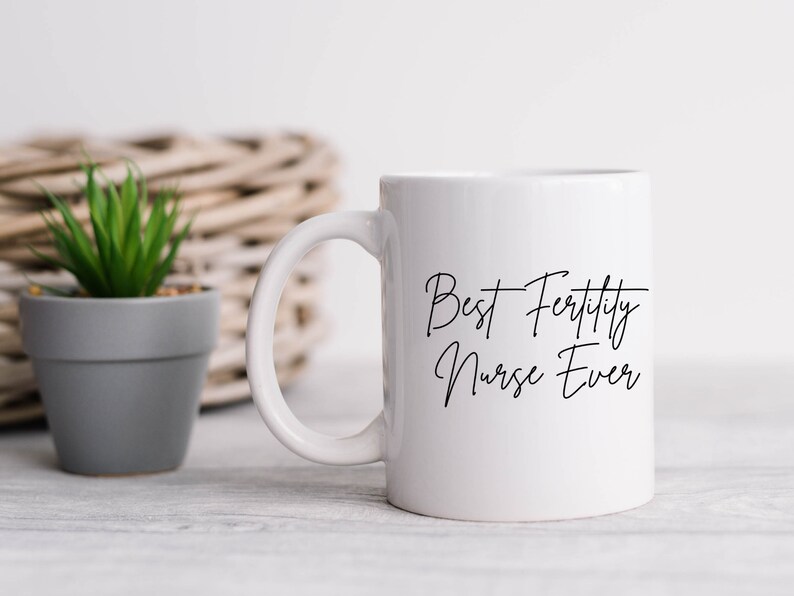 Fertility nurses are everything in IVF – they're there to hold our hand when the going gets tough, but also in celebrating the little wins in every cycle. Say thank you to your amazing nurse through this adorable Best Fertility Nurse Ever mug and she'll think of you every time she sits for a warm cup of tea!
No words – or gifts – can ever truly convey how grateful we are for egg donors. Many intended parents choose to give their egg donor a gift following the egg retrieval – this beautiful Knot Necklace is an ideal keepsake to mark this life changing moment.
When we think of IVF gifts, we often forget men and their unique experience. Men process emotions differently, but they struggle as well. These 'Lucky Pants' are a cute reminder that you're in this together, and that you appreciate all the emotional and physical support.
There's no need to spend a lot to show someone how much you care – especially with free resources such as those offered by Fertility Coach Caryn Rich. Caryn covers everything from the ABC's of infertility, to the 10 things no one tells while going through infertility treatments, as well as affirmations and journaling prompts to help you come to terms with each step of your journey. Do you or someone close to you need support? Why not book a call for some encouragement and guidance?
Books, books, and some more books
We loved compiling this list of inspiring family building books to mark National Book Month last October. From Julie Marie's Happy Together book collection on donor conception and surrogacy, to Jaimie Kelton's and Robin Hopkins'; If These Ovaries Could Talk, Lisa Shuman's My Lifebook to document your family building journey and Myriam Steinberg's Catalogue Baby – there's plenty of options to support you or someone close to you every step of the way.
Hope you find our festive fertility gift guide helpful as you shop for gifts this holiday season!