The incredible Regina Townsend is a mom to 5-year old Judah, as well as a librarian, and the Founder of the The Broken Brown Egg, an infertility advocacy blog. In her 10-year struggle with infertility, Regina realized that while Black women are twice as likely to experience infertility, they are the least likely to seek treatment – or talk about what they're going through. So she created The Broken Brown Egg as "a source of connection for individuals seeking a personal story of infertility written from the African-American viewpoint". During our conversations, Regina has shared her family building journey, including the different diagnoses she and her husband received along the way, and how The Broken Brown Egg is empowering, informing and advocating for those experiencing infertility. Read on for Regina's story and her insightful advice on navigating the family building journey.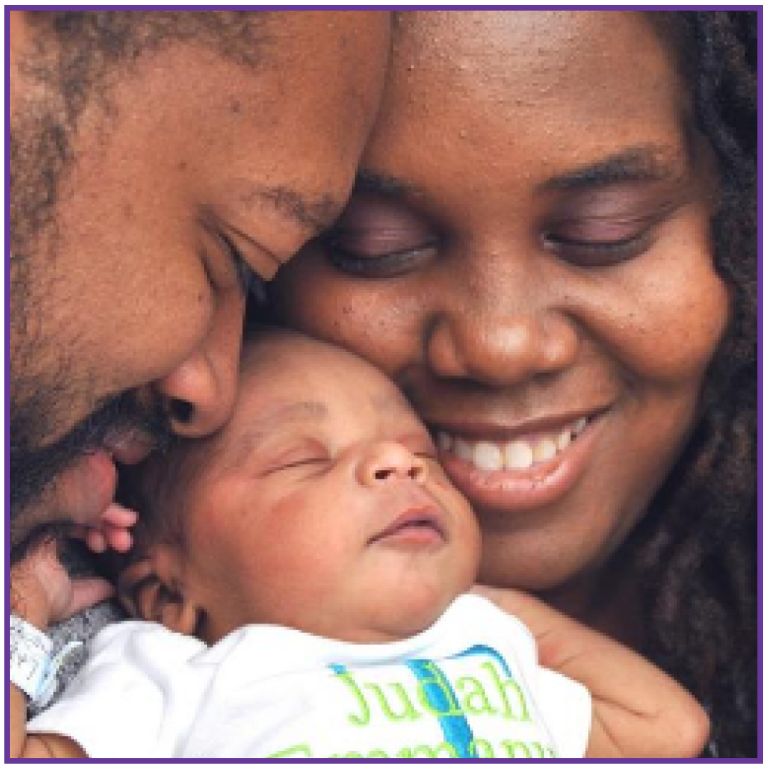 Regina and her husband with their adorable son Judah
1. As a Mother through IVF to your handsome almost-5-year-old Judah, and the founder of the wonderful resource and community, The Broken Brown Egg – can you share your story, and your path to parenthood?
My husband Jahbari and I got married pretty young, at only 23, so we never imagined that we would experience fertility issues. I had struggled with strange and lengthy periods for years, but most of my doctors in high school and college just told me it was a thyroid issue and encouraged me to lose weight. The pills helped with the periods, but losing weight was hard for me. Fast forward to a couple of years into our marriage, when we wanted to expand our family, we quickly realized that there must have been more going on than just my hypothyroidism. It took a few doctors, a colposcopy, a couple D&C's, and a couple polypectomies before we learned that I had a condition called Polycystic Ovary Syndrome (PCOS), a condition that has similar symptoms to hypothyroid, and that my fallopian tubes were both completely blocked. Jahbari also has a family history of diabetes, and was diagnosed with Type 2 Diabetes early in our marriage as well.
We pushed along with attempting to understand our fertility, which having the blog really helped me to delve more into, and we even pursued adoption, but that ultimately fell through. Through hosting a family building workshop at the library where I work, I met a wonderful Reproductive Endocrinologist, Dr. Anne Borkowski, who helped us pursue IVF, which is how we got our son Judah. Judah was born when we were both 34, so we'd been in the fight for just about 10 years.
2. The Broken Brown Egg, which has grown to support so many, 'exists to empower, inform, and advocate for those questioning or experiencing the impact of infertility, with an emphasis on the Black experience of it'. What inspired you to create this – to share your voice and your story – and what has doing so meant to you over the last several years since you launched?
When we first learn or suspect that we're experiencing fertility issues, it isn't so much the diagnosis that hurts us, as it is the idea that there is something wrong with us. We're instantly "othered" from family, friends, and all that society has told us was "normal". My website has helped me and so many others from around the world feel like we have a place, or at the very least, a voice that understands us and sees us.
I started The Broken Brown Egg because I needed to create the space I wish existed. I wanted to find a place that represented me, or at least helped to let me know that I wasn't the only black woman dealing with this issue. I wanted to hear more than just the clinical explanations of infertility, but also the cultural context that made my experience different. I couldn't find it anywhere, so I decided to make it myself.
It has been as much of a help to me as it has been to others, because I still struggle with the feelings that infertility created in me. My self-confidence, anxiety, and depression ebb and flow. Having the blog and organization have been a way for me to encourage others just by sharing my true and non-sugar coated thoughts. The Egg has also helped me reach my fertility goals because through the site I met the doctor who suggested I research PCOS, and then eventually the doctor who would perform our IVF.
The inspiring Regina Townsend, Founder of The Broken Brown Egg
3. It goes without saying that the last year(+) was far from easy on anyone – but we try to make the best of it with the people we love. As a Librarian, home with your son given work and school closures – what were a few of your favorite memories or new family activities from quarantine? And how are you enjoying readjusting back to a very tentative/small amount of normalcy?
The irony is that when the quarantine started, my library had just undergone a major renovation, and I had just spent the past 8 months or so transitioning my new department back and forth between floors as we waited for my new space to be built. So honestly, I was kind of tired and burnt out just before the pandemic started. So in some ways, the quarantine was a welcome rest for a short while and gave me the opportunity to spend more time with Judah.
I come from a family of teachers, and I've been a youth librarian for almost 15 years, so I knew to immediately stock up on books, games, and safe outdoor ideas. We went for a lot of walks around the neighborhood, took drives around Chicago to look at murals and street art, and did a lot of painting and crafts.
This return to "normal" has been perfectly fine for our son, who has a great new school where he started Kindergarten recently. For us adults, it's been a challenge, but we're trying to spend as much time outside in nature as possible because it boosts the energy.
Regina shares countless words of wisdom and inspiring messages on her blog and social media platforms
4. Finally, what advice would you give to intended parents on GoStork – who are just beginning their family building journey?
My first note of advice would be to keep as open of a mind as it feels safe for you to do. Going into family building, we have so many preconceived notions about how it's going to go. We think it'll be fast, or cost a lot, or that we know which path we'll ultimately need to take, but that's unfortunately not the case. We often find that the path goes in directions we never saw coming. Try to keep an open mind and listen to your heart.
Second, I'd say to try and enjoy your relationship. We can get really fixated on the destination and forget the person beside us on the journey. Go on a date. Go on vacation. You're not wasting or losing time by investing in your partner. You're going to need each other, whether this works or not, so don't take one another for granted. And if you're choosing to be a single parent, take yourself on that date or vacation. It's just as important.
Infertility is bigger than babies, so don't neglect the other parts of yourself or your life.
Thank you for sharing your story with us, Regina, as well as for supporting and empowering so many on their journey.
Intended parents, learn more about The Broken Brown Egg, here